omg!!~

I'm sorry minnasan, this journal will be spanish only.
I would love to write all this in english but, is difficult xD;; hahaha
and, I don't have too much time right now (stupid homework)
so, ;___; see you on my next journal!
-it'll have more english! I swear! XD-
curso propedéutico!?~

pues si, hoy fue mi primer dia del curso introductorio para la carrera.
mi hermana esta en esa misma escuela, asi que ya me conozco a mucha gente, y casi todo el personal XDDDD
hubo una platica al principio y estuvo divertida...pero!
despues nos pusieron un examen ENORME de pura matematica y cultura general...sin calculadora!!
wawawawa, no pude contestar nada de trigonometria, me quedo en cero sin la calculadora -shot-
u______________u
al llegar ahi, fue terrible, todas las tipas iban como si fuera fiesta, todas hablaban de trivialidades como es costumbre y sdfkjksdgkdfg me veian como poca cosa - _-);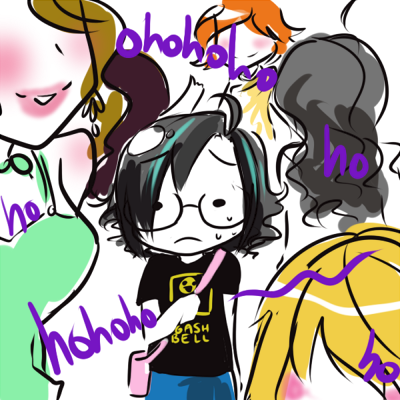 y todavia mas cuando les decia que tenia 16: "AAAAHHH no se vale, ahora cada vez los mandan mas chicos y menos preparados" escuche decir a una fulana~
en mi salon somos puras mujeres, y segun me dijeron, las mismas personas del curso, seran las de tu salon el primer semestre...
-sigh.-
mala forma de empezar con estas cosas.
regrese a mi escuela, porque tuve que faltar a clases para ir al curso y, me di cuenta de que por mucho que odie todo ahi...ya me acostumbre al entorno~
me esta entrando el miedo carreril ;_;Uuu
me duele mi cerebro y tengo demasiado sueño...
ademas de 0% de motivacion en la vida xD;;;;
justo ayer le comentaba a mi hermana que, me gustaria quedarme en coma un tiempo, para salirme un poco de esta shet que llevo como rutina todos los dias
y mi hermana al escuchar eso, me golpeo con un plato
en la cabeza
muy muy fuerte.
xD

------------
thanks for reading!!