English!~

bwhahaha!!
hello there!, it's been a while since I wrote the last journal, isn't it? XD
new icon!, to share with my two lovable neechans!




ah, befoooore going to the journal...you guys HAVE to watch this video:
www.youtube.com/watch?v=YU_nOt…
I lol'd so hard!!, seriously.

SO!
today I went to my new school!!
my first day at college was...well, to tell the truth it was extremely
BORING.
xDDDD; we only did presentations and little activities, but we have homework already! ;_____;Uuu ughhh
it's not a long one, but is a difficult one XD lol, I can't find all the information on google, so maybe I'll have to start searching on real life...books XDDDDDDD;;;
but it seems like everything will be different from highschool...
maybe more relaxed~
I'm sure that I'll say goodbye to this:
BWHAHAHAHAAHA - Aki feels really REALLY proud of herself, because she won't take calculus-
------
after the part of the journal in spanish you can find my list of things to do *_*)
so many work to do and no time!!, hahaha, and my procrastination will not help me, lol
well, I think that would be all for now~
OMFG, DID YOU KNOW THAT...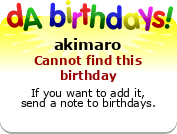 LOL *runs away*
Español!~

hahaha siii, en realidad no me gusta mucho presumir acerca de mi cumple, al contario! ;__; no me gusta cumplir años
pero pues uno siempre siente esa emocion cuando el dia ya esta casi a la vuelta de la esquina xD; y mas si de un dia para otro te diste cuenta del dia en que vivias!
dios, habia estado tan metida en otras cosas, que ni estaba conciente de que tendria ya 17...
derrepente paseando en journals viejos veo el Bday badge y OMFG xD;;; 3 dias!?
como que no pareciera que va a pasar nada, todo esta tan tranquilo y aburrido, tch que siento que tampoco mis papas se han percatado - v-); oh well, cambiemos de tema.
mi primer dia en la Uni, como dije alla arriba, fue aburrido! XDDD
el campus donde estoy es nuevo...no tiene pasto, no tiene arboles, no tiene cafeteria, no tiene electricidad, el agua huele raro, esta lleno de albañiles (porque aun le falta construccion) y...esta enmedio del cerro xDDDDDD
donde la calle todavia ni esta pavimentada!!
un completo...ASDFDGH a eso, que les pasa!?, estan locos en esa escuela.
descubri que en mi salon si hay un varon!! *___*) soy feliz!
pero no soy tan feliz porque unas niñas de arquitectura como que me metieron en su grupito, y a decir verdad, me caen mal xDDDDDD!!!, pero nimodo, hay que llevarse -resignacion-
todo fue pura platicada el dia de hoy, y al parecer sera asi toda la primera semana...lo malo es que desde ya nos estan encargando tareas XD; nada largo como en mi prepa (LOL eso si eran tareas extensas) pero pues son conceptos que cuesta trabajo encontrar ° ° )
aunque parece que sera divertido...habra que ver
me obligan a dormir temprano!!, morire asi!!!!!! -muere desde ya-
;_; no quiero dormir