UPDATES
Hello once again DA!
oww I'm such a lazy person, I upate this like one time every month *fail*
summer vacations are coming into an end, and I did...nothing at all.
I'm currently working on some things, evil plans to conquer the world and stuff, but I cannot tell anything yet fufufufu!
if you saw my last journal maybe you know that I'm turning legal (at least in my country) very soon, I don't feel happy about that anymore
maybe I just caught the "pre-bday depression" but I feel like I'm not following the path I wanted.
I always knew what I wanted to be, what I wanted to make and how I wanted it, there was a time when I had my head up and I was decided to follow my dreams ultill the end.
how foolish I was.
this words may sound egoist but, please don't misunderstand me
I think that the people around me killed my dreams.
"that's imposible" "you can't do that. know your place." "ahahaha, you're kidding, right?"
with time, my dreams about future changed so much, that I don't like them anymore.
When I was little all people said I was someone very skillful, that I would had an assured future if I continued doing what I liked, and I really thought that I was different from others, that I was better, I was an artist!.
But I grew up and that brought new ideas, new perspectives, and new comments from the same people that used to give me courage.
Now I don't feel special at all, and people think that I am just another person refusing to grow up, another weirdo obsessed with those "horrible japanese cartoons"
and even if its true, I don't see it that way.
I'm just trying to do what I like, what I "do best"
but, I don't want to be like this forever you know?,I always felt like and artist
and I want that to be true! I want to learn more and finally become a real artist.
Not just a person who knows how to make huge cutes eyes and shiny anime hair, because I don't believe that's art anymore.
It'll be so difficult to change...because I don't know how to do other things.
I want to learn a lot more. Thanks to my broken dreams and those derogatory comments
I know that I can't achieve the life I like doing what I like.
time to face the world don't you think?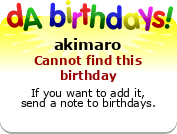 thanks for reading! ; v ;
and also thank you for all the support in this year!
30,143 hits!

sorry for my awful englishhhhh ):