UPDATES
Hey DA! I'm back!
I wasn't going to leave forever XD, I just had a stress overload ( or something like that) and I decided to stop wasting my time browsing on DA for a while, because I'm adicted.
but now I'm on vacations and I have officially nothing to do!
* 3*) so I want to continue working on my incomplete pics, and then show them here

I'll also go to an important Con here in Mexico called "Animex" and I really can't wait! *eager*

and I will be selling our comic "Epsilon" there! wish me luck!
And I have to say once again:
Thanks for all your support, I love yooooooou all ;_;

It's been already a year since I opened this account! *can't believe it* Time is going so fast!
I'm turning legal in two months...OMG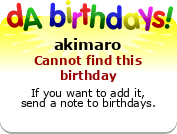 ESPAÑOL
pues siii ya volvi, huhu! y estoy emocionada por varios motivos como ya les mencioné
en especial por:
1- no mas escuela hasta agosto
2- termine el comic y el tomo de Epsilon numero 03 estara listo muy pronto
3- me voy a la Animex! y espero ver a mucha gente alli!
4-puedo hacer tonterias y vacacionar como mensa!!
soy feliz T vT)